Create Field Sheets Directly from the Program
Important Notice: You must keep all headers, logo and copyright notices on each field sheet.

T&M Pro - All Versions now allow user to create Field Sheets directly from the program

Follow instructions below

You must have a price data file open in the program to create the field data sheets for that price list.




You can open an existing bill, Create a new Bill or Open Price Data File Dialog and Import a Price File.




Once a price file is loaded in the program then go to Tools/Settings menu - Click to Expand and then Click on Create Field Sheets (see image below)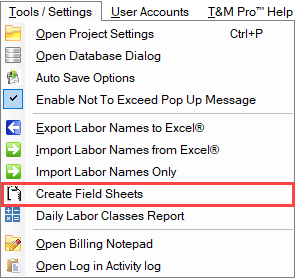 When you click on "Create Field Sheets" another dialog will open (see image below)




Click on BROWSE - You will be asked to save the file - give the file a name and then click SAVE




Be sure to check the box "Check to Open Excel® file after Export is Complete" - Excel will open after the export is complete.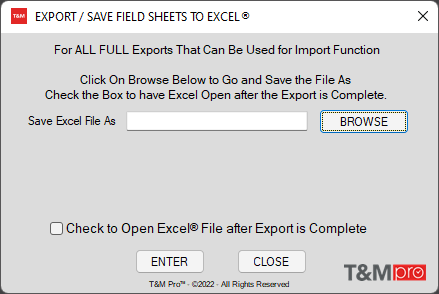 Below is an Excel® spreadsheet - This is what is created when you Create Field Sheets from the Export Dialog above
Below is the Actual Field Sheet from the Tab * FIELD SHEET -
You may have to edit text/font Sizes if your text is too long to fit - Edit text/font just as you would in any spreadsheet. The best setting for font size for long descriptions is 6


The Print Area is automatically set to print ALL pages for each Field Sheet - It is recommended you print to a PDF file then you can make copies from that file.


If you only want to print the pages that contain data - just reset and set print area.
Copyright © 2022
. All rights reserved - T&M Pro Suite -
www.timeandmaterial.com
- Setting the Standard for T&M Billing