Create Price Data File From Excel®
Create New Price Data File From Excel®
Price List Template for T&M Pro™ - All Versions

Want us to create your data files? T&M Pro Suite offers a complete Custom File Service - go to Create Custom Data Files
If you are starting from scratch and want to build your own price list be sure to download the Price List Excel® Template
If you want to start with an existing Price Data File be sure to create an Excel Template by Exporting the Price List to Excel® - See help section Import / Export Price Data File
See Excel® Template Examples Below - Be Sure to Read Important Header Notice
VERY IMPORTANT - Formatting of Cells in Excel

For Currency - Format the Cell as a Number - Example 25.00 - Do not format as Currency - It must be formatted as a NUMBER with 2 spaces after decimal 0.00

For Numbers - Format as Number with No Decimal (Correct format 1 Incorrect Format 1.00) Do Not Apply Formats Beyond the Last ID # Line.
How To Format a Cell in Excel -
DO NOT FORMAT PAST THE LAST ID# - ONLY FORMAT THE CELLS THAT CONTAIN VALUE.
VERY IMPORTANT TO ONLY FORMAT CELLS THAT CONTAIN VALUES - SEE EXAMPLE BELOW
See Examples Below Showing the Correct Formats that "MUST" be used.
Materials and Consumables
Example of how you should enter data to Excel® template.
This will allow you to import and Convert to a .bdata file using the Import Option - To Learn more about Import go to help section Import/Export Price Data File

You MUST follow the Examples below to Create/Convert an Excel File to a Price Data File with the extension (*.bdata) - No Cell should be left blank if no value enter 0



Correct Format for Entering Material Items in Excel® for Price List
Correct Format for Entering Equipment Items in Excel® for Price List
Correct Format for Entering Labor Items in Excel® for Price List
Correct Format for Entering Specialty Items in Excel® for Price List
Important Note:

Before importing and converting, make sure you close out of Microsoft Excel or you will generate an error
How To Import and Convert from an Excel File to a .bdata file
- The file used by our Program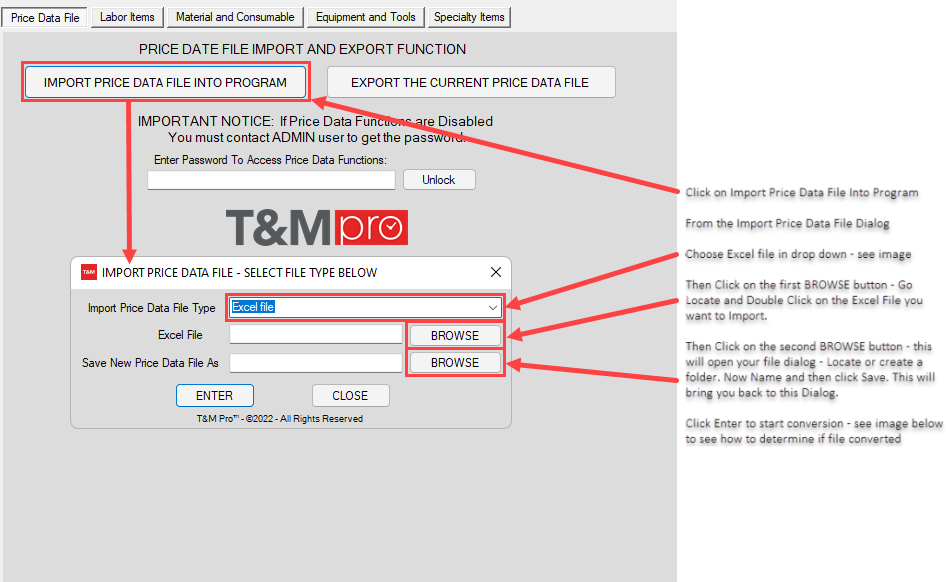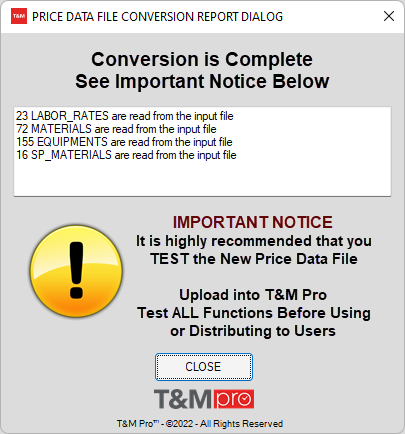 IMPORTANT NOTE:
After you convert from Spreadsheet to a .bdata file -
INSPECT YOUR PRICE ITEMS BEFORE YOU ATTEMPT TO USE

Once you convert your price file you will need to inspect it carefully before you attempt to use it in a bill file or distribute it to other T&M Pro or T&M Go users. See Images Below to make sure you do not have any of the issues below or your price data file will fail when you attempt to use it in a bill file..

Very Important - Please Read before you attempt a Modification or Create a New Price Data File-

If you need to remove an item from the Excel Spreadsheet you "MUST" remove the entire LINE not just the items in the cells. Click on the Line # to highlight entire line then click DELETE to delete the entire line. When you import the Excel File it is important to test each category with an input and also make sure there are no empty lines below the last ID # and if there is you must go back to the Excel spreadsheet and highlight the last 10 or more lines and delete them. Once you have completed this you can then go back and Import to convert to a .bdata file.

For Every Entry - Every Cell must contain Data and/or numbers. Do not leave any cells empty. If you have an ID # then it must contain data. There should be NO empty lines after the last ID #. Once you convert the Excel® file to a .bdata file open the new bdata file and check each item and category to confirm they work properly and there is NO empty lines below the last ID# for each category. Remember If the value is 0 - Enter 0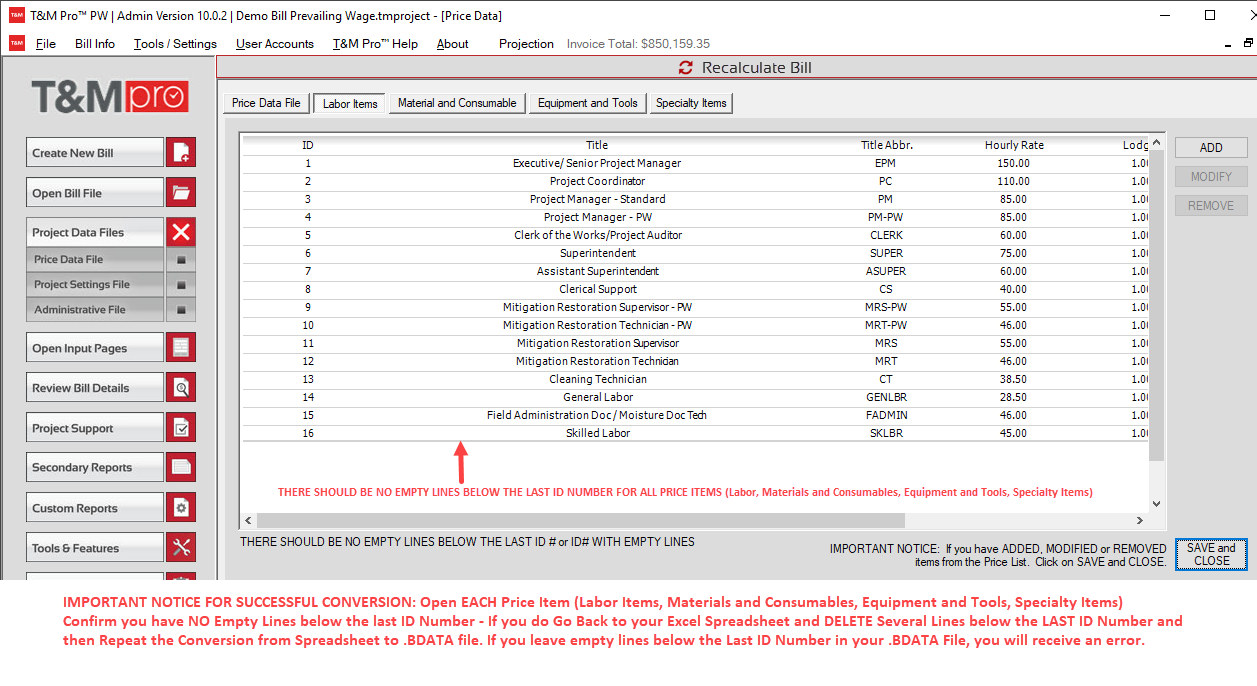 Copyright ©
2022
. All rights reserved -
T&M Pro Suite
-
www.timeandmaterial.com
- Setting the Standard for T&M Billing
Related Articles

Price Data Template

Price List - Excel Templates and Correct Formatting If you are wanting to create a Price List to use with T&M Pro™ - We recommend that you download the Excel® template below. - Be sure to test your new price list to make sure it works properly ...

Applying Password to Price Data File

This is the same process for T&M Pro and T&M Pro Prevailing Wage Step 1 The Admin Version is the only version that can Set or Reset a Password - Admin user will need to set passwords for all the bdata files they want to protect. Open Program and Go ...

Import / Export Price File

Import Price Data File Important Note: None of the processes below are used when creating a new bill. You choose the Price Data File using the Create New Bill Dialog Export Price Data File Copyright © 2022. All rights reserved - T&M Pro Suite - ...

Create Field Sheets

Create Field Sheets Directly from the Program Important Notice: You must keep all headers, logo and copyright notices on each field sheet. T&M Pro - All Versions now allow user to create Field Sheets directly from the program Follow instructions ...

Create Data Files

Convert Data Files Need to Convert your T&M Price and Terms into Data Files for T&M Pro This is a service we offer to our users. Some would rather have this done by us than doing it themselves. We will convert the files to the correct file formats ...