Understanding Equipment Data Input into T&M Go

The Items will automatically be listed on the Equipment Input Page - These are extracted from the price data file uploaded for this T&M Go project.

IMPORTANT NOTE:
You must enter equipment with a total quantity for the day. If you track your equipment and enter them one at a time for the same equipment ID then you must track outside of T&M Go. Example if you have 20 air movers then you must enter a quantity of 20 in T&M Go. No Exceptions to this rule.
We have made this very simple for the user - All the user will need to do is input the QTY for each item that will be billed for the project and has the ability to input other items as shown below. This input is for one day only.
Items Available for Input
Date

- Enter the Date for day you are billing these items - set the date on the first cell and then place mouse over date and right click and click on Set all columns to this value. The date will automatically be set for all items. Date format "MUST" be Month/Day/Year - (

06/4/2018)

- no other format is allowed or accepted.




Quantity

- Enter the Total QTY for the item you are billing




Note

- This is for Item input note - This is not required




Allocation #1 - Allocation #6

- If you are using allocations you can enter these here




Tax

- If you are billing tax then select tax from drop down. This can also be done at a later time either in the generated report or in T&M Pro. Not required




Identifier

- If you are using identifiers enter them here - this input is optional and not required




Category | Phase Code | Description

- If you are using Phase Codes Enter them here. These must match the phase codes enter into the Project Settings File. These can be added at a later time either in the report or in T&M Pro



Below is how the Equipment Page will appear in T&M Go
.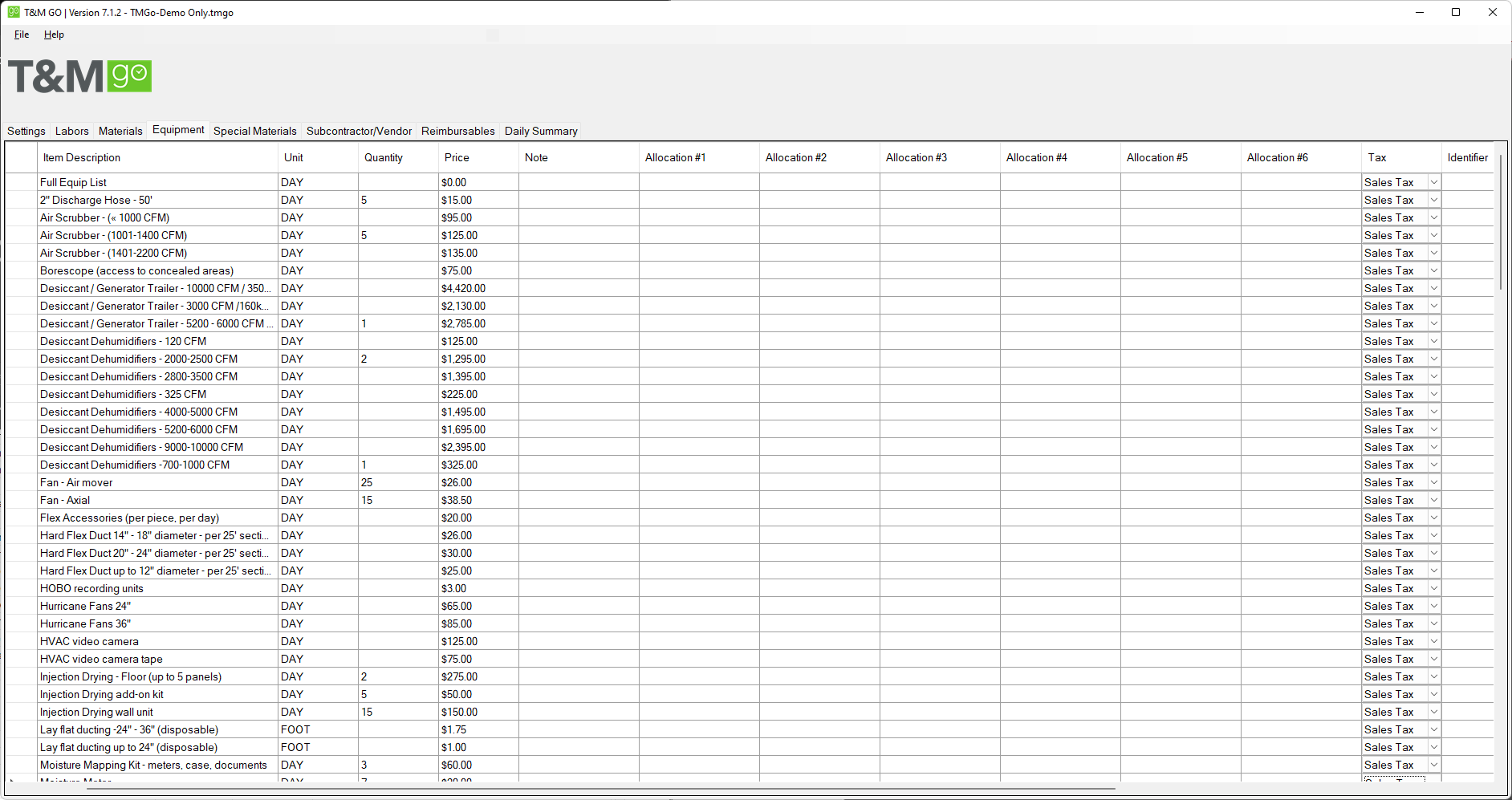 Below is an Example of the Equipment Page with Data Input