Display / Scaling Issues with Windows 10
Program Not Displaying Correctly

This can occur if you are using a Laptop / Notebook with Small High Resolution Display
This is directly related to the Windows 10 Auto Scaling that is affecting many applications




Microsoft® released an update to Windows 10 to fix this issue.




First you need to confirm you have the latest build of Windows 10 - You can do this by copying the link below into your browser.




Once you have confirmed or updated to the latest build of Windows 10 then follow instructions below to fix the scaling issue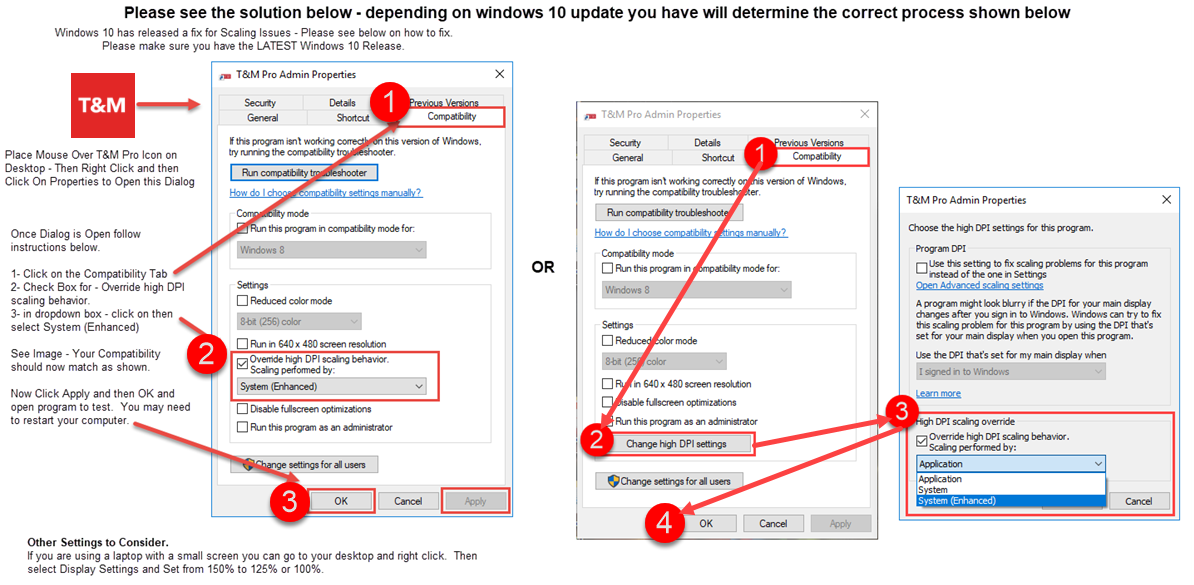 OR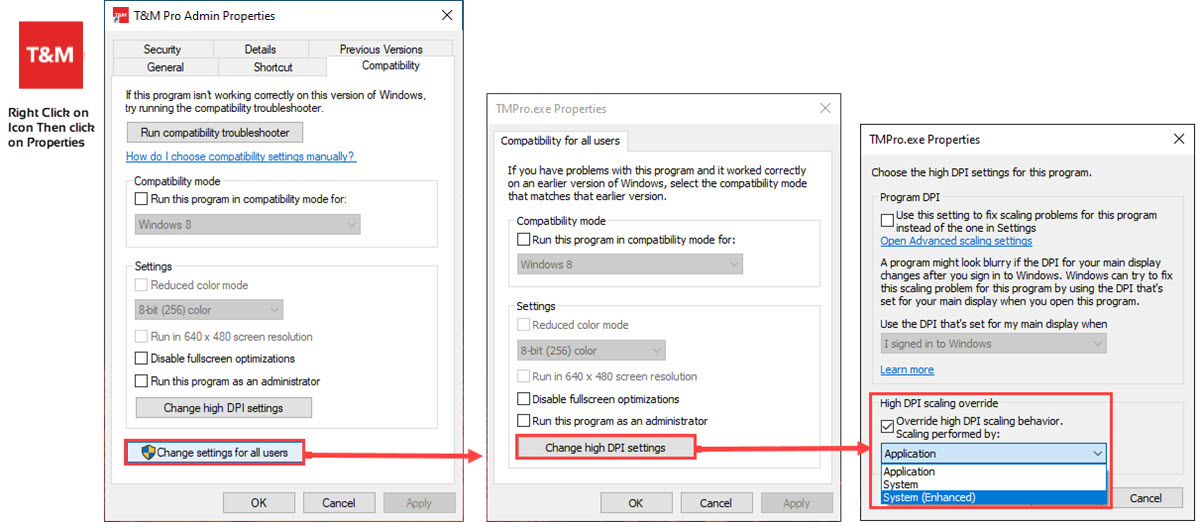 Microsoft® trademark is owned by Microsoft Corporation and used here for reference only.
Copyright © 2022. All rights reserved - T&M Pro Suite -
www.timeandmaterial.com
- Setting the Standard for T&M Billing
Related Articles

Trouble Shooting Issues

Trouble Shooting Issues Issue: My Logo is Overlapping the Address on the Invoice? Solution: This is a sign that your logo size is too large. Issue: I uploaded my logo file but it is only showing on the Invoice and Bill Pages. It does not appear on ...

Billing and Data Input TIPS

Billing and Data Input Tips Did you know that you can input multiple Material and Equipment items at the same time? This is a great feature and will save you time. To learn more about this feature go to Input Multiple Material and Equipment Items ...

Settings - Project and File Information

Project and File Information Displayed on T&M Go on Main Interface User will need to fill out the following - This information will also be added automatically to the Field Sheets. Date - this will appear as the default date on the input pages. You ...

Changing a Price File in an Existing Bill

Changing a Price File in an Existing Bill Changing a price data file in an existing bill can be done with ease with T&M Pro. However, if you have already started data input, you should keep in mind that your existing data is based on the Labor ...

IMPORTANT Protect Your File - Understand File Management

ALWAYS SAVE A BACK UP COPY OF YOUR BILL FILE - IN CASE YOU NEED IT FOR RECOVERY - FAILURE TO SAVE A BACKUP COPY IS RISKY AND CAN CAUSE YOU TO LOSE DAYS/WEEKS/MONTHS OF INPUT IF A PROBLEM OCCURS. NOT ALL FILES CAN BE RECOVERED AND SAVING A BACKUP ...